Search results for: "Italy"
PDT MACRON INVITED IRAN TO G7 BIARRITZ
Responsible Author: Jedi Foster P/O Rahma Sophia Rachdi | Paris, Biarritz, 08/26/2019, 14:33 Time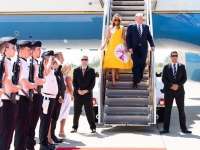 USPA NEWS -
President Trump, pushed back on surprising Iranian Foreign Minister Mohammad Javad Zarif visit, to the G7 Summit in Biarritz, France, invited by President Macron (After they had met two days before at Elysee Palace, Paris). The sudden Iranian visit took everybody by surprise, by visiting the G7 amidst rising tension between the two countries, due to the sanctions imposed by President Trump to Iran and withdraw of JCPCOA (Joint Comprehensive Plan of Action, The nuclear agreement was obtained in 2015, during Obama's administration is no longer active, since President Trump exited unilaterally).Monday morning, US President Donald Trump confirmed to have given the green light to President Emmanuel Macron « Asked for my agreement, he told the press. I told him: if that's what you want, go for it! I knew everything he did and I approved. " But, he added, "I do not want to meet" Mohammad Javad Zarif. "It is too early to meet him," he continued, as relations between Washington and Tehran are very tense following Donald Trump's denunciation of the international nuclear deal on Iran.
CULTURAL TOUR IN THE BASQUE AREA
Responsible Author: Jedi Foster P/O Rahma Sophia Rachdi | Paris, Biarritz, 08/26/2019, 14:14 Time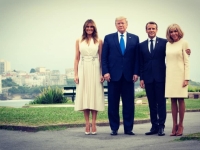 USPA NEWS -
While the heads of state and government, gathered during two days in Biarritz for the G7, to chain the bilateral meetings and several to discuss the questions of the climate of the planet and the nuclear file in the Middle East, and that Anti -G7 takes place a few km,from Biarrtz (the alter-mondialists who were protesting on the other side of the city, a few miles away (the police barrages preventing them from moving closer to the city of Biarritz, avoiding any overflow or obstruction of the holding of the G7), Brigitte Macron offered a tour and shopping included with his counterparts Espelette yesterday morning. This small quiet and picturesque village of 2,000 inhabitants known tourists, with its typical houses of the Basque Country, for its hot pepper AOC and its espadrilles, will have a renown tenfold by the arrival of the first ladies of the G7, due to the initiative of Brigitte Macron, wanting to break the usual protocol. This will mark the minds of the first ladies as well as the G7 usually more formal and conventional. Indeed, the First Lady Brigitte Macron went to Espelette in May 2019, to prepare the famous G7 and promised the mayor of Espelette to be back...
| | |
| --- | --- |
| | RAHMA-SOPHIA RACHDI |
| | Daren Frankish |
| | Ruby BIRD |
| | Yasmina BEDDOU |
| | Roberto Magni |