Search results for: "Australian Music"
Australian Teenage Emerging Talent
Responsible Author: Robbie Merritt | Sydney Australia, 08/19/2019, 13:33 Time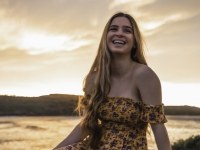 USPA NEWS -
Wollongong is a coastal Australian city, south of Sydney along the Grand Pacific Drive made famous for its surfing beaches and rock pools which line the coastline. Wollongong hiking trails encircle the forests and rocky cliffs of Mt. Keira which frames the city. To the north, hang gliders launch from Bald Hill and land in the Stanwell Park alongside the City. This is where you will find the amazing Celeste Bonaccorso a passionate and dedicated singer/songwriter/musician making waves with her own style of raw talent focused on R&B and Hip-Hop genres.
Ironically when not at school, teaching Piano or violin you will find Celeste creating sandwiches at Subway just like R&B singer and 'Rapper Bobby Ray Simmons' did before he became the 'Singing Legend B.o.B.' Like many famous music artists, Bonaccorso knows the meaning of humility, and humbleness and hard work as she slowly builds her 'Brand' as many before her have done in the music industry. When I told Bonaccorso that 'Alanis Morissette' worked in a factory stuffing junk mail into envelopes, 'Madonna' worked at 'Dunkin Donuts' and 'Pink' had her humble beginnings at 'McDonalds', she simply smiled.
| | |
| --- | --- |
| | RAHMA-SOPHIA RACHDI |
| | Daren Frankish |
| | Ruby BIRD |
| | Yasmina BEDDOU |
| | Roberto Magni |